Events
---
Interview with Oliva Fierro on Good Morning Arizona, KTVK Channel 3
Fri
day September 12, 2008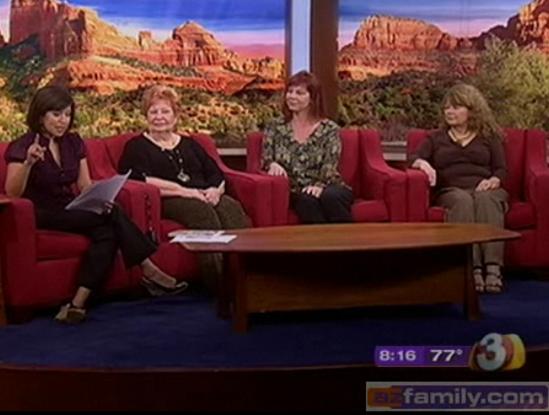 Olivia - Ava - Kristen - Judy
---
Visit and "Like" us on Facebook:
---
CI Study Group Meeting
The meeting is from 10:30 a.m. until 12:30 p.m.
The location is Catholic Charities :
Catholic Charities
4747 N 7th Ave
Phoenix, AZ 85013
Kristen Hamilton and Judy Friddle, Private Investigators and Confidential Intermediaries,
will be facilitating January's meeting. They will be discussing search techniques,
tips and tricks of the PI trade!
Bring your tough cases for some professional brainstorming!
We will be having case sharing at this meeting.
Don't forget to bring your
CI Certificate of Attendance form with you :
---
Scottsdale's 15th Annual

ArtFest™
was a two day festival featuring fine art, "Book Street",
l
ive music, international foods, and an interactive kids' area.
Over 20 Arizona authors had tables set up to sell and sign their books,
and the weather was PERFECT both days!




---
Mesa Arizona Family History Expo
Mesa Convention Center
This year's theme was "CyberExchange 101: Learn the tech to search your roots"
---
Interview with Kristen Hamilton on Adoption Research
"Speaking of Adoption"
Don't miss Donna Montalbano's interview with Judy Andrews and Kristen Hamilton on live radio!
Tuesday, September 23, 2008 at 2:00 pm EST (11:00 am AZ Time)
---
Desert Sleuth Chapter, Sisters In Crime
Wednesday, September 17, 2008 -

6:30 p.m.

- Open to the public
Ava, Judy and Kristen, new members of Sisters In Crime, will be the speakers
at the monthly meeting, and talk about some of their more exciting investigation cases.
7303 E. Indian School Rd.
Scottsdale, AZ 85251
480-947-8777
---
---
Book Event at Changing Hands Bookstore
Friday, September 12, 2008 - 7:00 p.m.- Open to the public
Kristen will read an excerpt from the book and Ava & Judy will join in on a Question and Answer session regarding adoption searches. Two reunited family members will also be present to answer questions
Located on the SW Corner of McClintock & Guadalupe
---
By Alison Miller · September 11, 2008
TEMPE — Most people never experience what it is like not knowing who their real birth parents are.
The book, Back to the Beginning ($18.95, Perfect Paperback), gives readers...
[
---
LAWN PARTY & BOOK SIGNING
Saturday, May 17th, 2008
Open House hosted by Ava Friddle, Judy Andrews & Kristen Hamilton, Authors
Our new book, Back to the Beginning; Remarkable True Stories of Adoption Searches and Reunions is finally printed and in our hands! In May, we hosted a lawn party and invited all our friends, relatives, and clients to help us celebrate. It was a beautiful spring day and we set up everything on the lawn under gazebos and umbrellas- the buffet, ice chests, tables, chairs, etc. Kristen's daughter Kelsey provided the background music with a selection of songs and guitar playing. We had a great turnout with over 150 guests, and the party lasted from 2 o'clock until midnight!
---
Desert Sleuth Chapter of Sisters in Crime
The group presents Kristen Hamilton, Judy Friddle Andrews, and Ava Friddle, authors and professional sleuths who discuss compiling information from their cases for a book.
January 16, 2008 7:00 pm - Cafe Carumba! 7303 E. Indian School Road, Scottsdale
Kristen & Judy had the great pleasure of talking with the Desert Sleuths Chapter of Sisters in Crime in January (Ava was absent as she was on a big case that evening - babysitting Kristen's children.) Hot Lead is the group's monthly newsletter, and Sue Flaig gave this report on our talk in her regular column "Caught in the Act":
What a fun meeting! The Sisters hosted a real "sister act" with private investigators Kristen Hamilton and Judy Friddle Andrews of RESEARCH ETC., Inc. This Scottsdale woman-owned PI Agency has been in business since 1995. They call themselves "people finders" since their main work is in reuniting adopted children (now adults) with their birth parents...and they work closely with the AZ Confidential Intermediary Program. Kristen admitted that since the growth of the internet, the job has become easier, since it is mostly research work. However, they also do surveillance and other types of investigation.

Kristen & Judy talked about some of their case studies, several of which will appear in their upcoming, self-published book. They also have CD's and DVD's available, through "SpyralSearch," a reference directory of specific cities and years. For more information about which cities and years, go to www.SpyralSearchSales.com .

Our members had lots of questions for Kristen and Judy, especially about adoptions, the Confidential Intermediary Program, and whose rights (Birth mother, adopted child, state) take precedence. We found that different states have different laws; often the information they seek from adoption agencies is sealed; and genealogy sites such as ellisisland.com and ancestry.com can be helpful in their research.

All in all, a very interesting program.

Report by Sue Flaig
For more information on the Desert Sleuth Chapter of Sisters in Crime, visit their website at
www.angelfire.com/az2/sinc
. Sisters in Crime is a world-wide group of 3400 members in 48 chapters. The members are authors, readers, publishers, agents, booksellers and librarians who love mysteries and encourage and support women mystery writers. For more information, visit
www.sistersincrime.org
---
Kristen Hamilton With "America's Toughest Sheriff," Joe Arpaio
Kristen Hamilton, President of Research Etc., Inc., was honored by the opportunity to personally meet Maricopa County Sheriff, Joe Arpaio. Known as "America's Toughest Sheriff," Sheriff Joe is famous for his no-nonsense, back-to-basics approach to law enforcement. The "guests" at his Tent City Jail wear stripes, pink underwear, work on chain gangs and eat baloney sandwiches for dinner. No frills at this camp - the inmates are even not allowed coffee, salt, or sugar. There have been many complaints about the amenities of the facility - it gets hot sleeping in tents in our 105-115+ degree summers in Arizona. Our best advice is to stay on the right side of the law in Maricopa County!
Kristen, with her 5-year-old son, was at the Sheriff's Office to see her husband Russ be sworn in by Sheriff Arpaio as an Honorary Sheriff's Deputy. The Sheriff, in spite of his stern reputation, was warm, personable and funny. He autographed posters and also "deputized" Kristen's son by personally pinning him with a "Jr. Deputy" badge. Thank you Sheriff Arpaio and Staff for creating a memorable day for the Hamilton's!
Under Sheriff Joe's tough exterior is a man with a big heart for animals. He runs MASH, a no kill animal shelter, and yes, the shelter provides air-conditioned quarters for the animals!
One thing is for sure: No one is ambivalent about their feelings for Sheriff Joe - you either love him or you hate him. For the record, WE love him!
---