Welcome to Research Etc., Inc.
Research Etc., Inc. is a full-service private investigation agency experienced in all aspects of information research. Since 1995, we have been committed to excellence in client satisfaction through professional investigations, friendly customer service and individual attention to each and every case. With our vast resources, no case is too large or too small! Our clients, regardless of the size or scope of the investigation, can rest assured that every case is always handled in the strictest of confidence and with the utmost in discretion.
We provide professional and thorough investigation services for the entire U.S and Canada.
Our areas of specialty include:
Adoption Searches (all states) -

AZ Confidential Intermediary

Pre-Employment Background Screens -

Designated E-Verify Employer Agent

Indiv

i

dual Background Checks - Skip Tracing / Locates

Civil and Criminal Records - Company Research

Sensitive Document Scanning
---
Supreme Court Upholds Arizona E-Verify Law in 2011
By: Mickey McCarter
05/27/2011 (12:00am)
The Supreme Court Thursday ruled in favor of an Arizona law that requires businesses to verify the employment eligibility with E-Verify and to revoke the business licenses of those that deliberately hire illegal immigrants. . .
Read the full article on Homeland Security Today
E-Verify is a database program that allows employers to check the immigration status of potential hires. It is currently mandatory in some states and for firms that contract with the federal government.
Research Etc., Inc. is a designated E-Verify Employer Agent - contact us to find out how we can help your business comply with this program. Visit our E-Verify page for more information.
---
Research Etc., Inc. has assisted professionals, companies and individuals with legal research, background checks and skip tracing. We have brought together birth families, put service members back in touch and reunited lost loves. We have helped many groups who organize family, military, and high school reunions. As licensed Private Investigators, we have access to on-line databases and other resources available only to P.I.s.
Contact us for more information on our investigation services
---
Research Etc., Inc. will celebrate its 18th Year Anniversary!
May 15, 2013 will be a special day for Research Etc., and we are still amazed that the time has passed so quickly. Our work load is varied but never dull, from background searches to company investigations to GPS tracking - but assisting in the sensitive and personal adoption searches brings us the most joy.
---
May 3, 2010 - Reunion on KTVK Channel 3 News: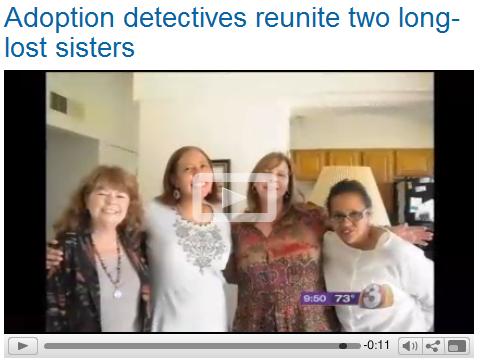 ---
Research Etc. performs adoption searches nationwide. However, if you were adopted in Arizona, you have the option of using a Confidential Intermediary to perform your search. Kristen and Judy are both Certified Arizona Confidential Intermediaries. They are experienced in locating and arranging reunions between adult adoptees, birth parents, and adoptive families. As each case is inherently different, our CI's strive to maintain strict confidentiality and sensitivity toward all parties involved. Please refer to our Confidential Intermediary Page for more information on the Arizona Confidential Intermediary Program.
February 2010 Edition - Click to read full article
---
We have been reuniting families for 18 years- read our book about our Adoption Search cases:
Remarkable True Stories of Adoption Searches and Reunions
From the Case Files of Research Etc.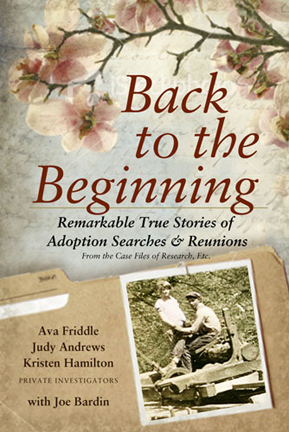 Back to the Beginning
provides an insightful and often dramatic perspective on adoption searches and reunions. From a daughter seeking to understand the trauma her birthmother went through in relinquishing her; a son wanting to set the record straight on his own family history; to a birthfather who never even saw his daughter when she was born, but never forgot her - each story is personal and thought provoking.
---
Visit and "Like" us on Facebook:
---
8390 E. Via De Ventura #F110-184,
Scottsdale, Arizona 85258
(800) 992-3571 ♦ (480) 664-4345 ♦ F
ax: (480) 367-0119

"Research Dog" ©1995 Amy Andrews - Website Design by
Digital Infinity Designs
© Copyright 1995 - 2009 RESEARCH Etc., Inc.